Scientific Program
The scientific program includes plenary lectures as well as an extensive list of invited talks arranged in parallel sessions. Oral contributions and poster sessions are scheduled as well. 
FINAL PROGRAM 

The final schedule and scientific program of the symposia follows (click for larger image):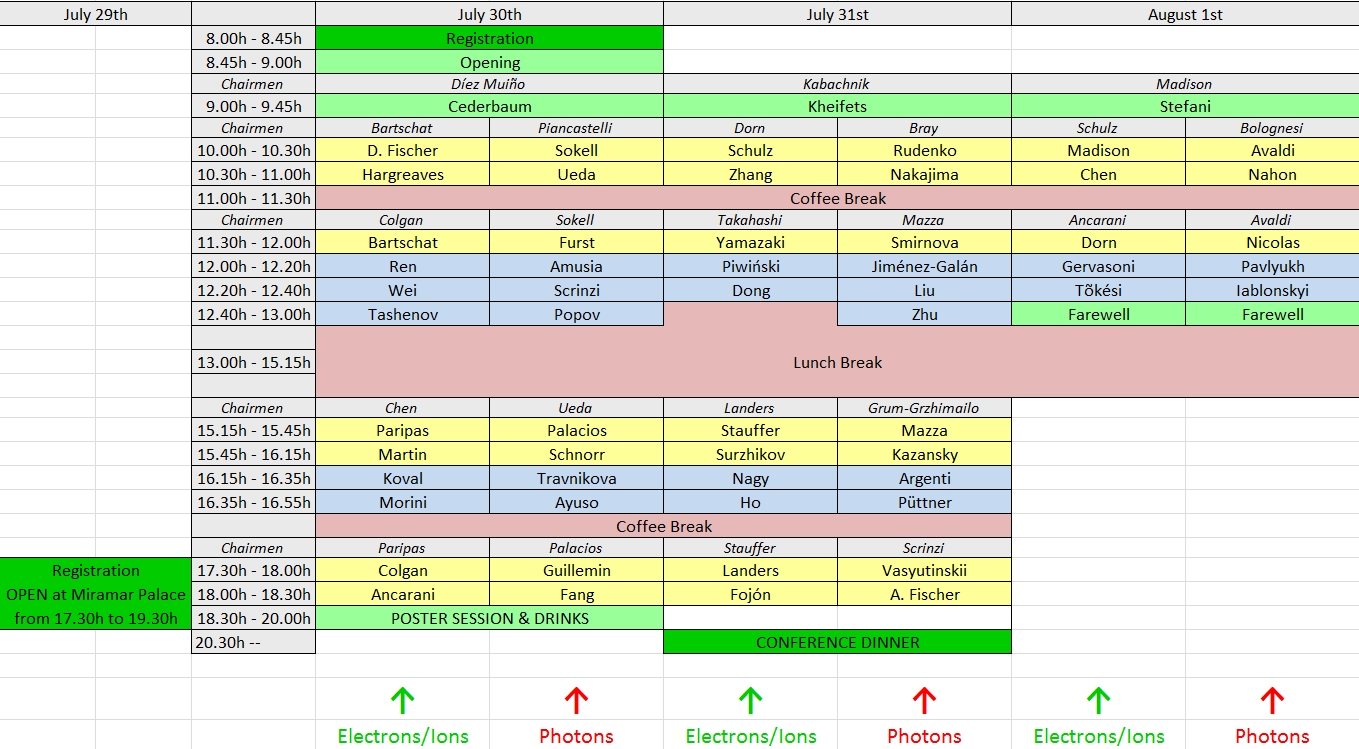 A more detailed version of the final scientific program, with titles of all talks, is available HERE.
The list of invited lecturers and invited speakers that will contribute to the scientific program follows:
 Plenary Lecturers
Lorenz Cederbaum (University of Heidelberg, Germany)
Anatoli Kheifets (Australian National University, Canberra, Australia)
Giovanni Stefani (Università di Roma Tre, Rome, Italy)
 Invited Speakers
Ugo Ancarani (Université de Lorraine, Metz, France)
Lorenzo Avaldi (CNR - Istituto di Struttura della Materia, Roma, Italy) 
Klaus Bartschat (Drake University, Des Moines IA, USA)
Xiangjun Chen (University of Science and Technology, Hefei, Anhui, China)
James Colgan (Los Alamos National Laboratory, Los Alamos NM, USA)
Alexander Dorn (MPI für Kernphysik, Heidelberg, Germany)
Li Fang (University of Texas, Austin, TX USA)
Andreas Fischer (MPI für Kernphysik, Heidelberg, Germany)
Daniel Fischer (MPI für Kernphysik, Heidelberg, Germany)
Omar Ariel Fojon (Instituto de Física de Rosario, Argentina)
John Furst (University of Newcastle, Ourimbah, Australia)
Renaud Guillemin (Université Pierre et Marie Curie, Paris, France)
Leigh Hargreaves (California State University, Fullerton CA, USA)
Andrey Kazansky (Donostia International Physics Center, San Sebastian, Spain)
Allen Landers (Auburn University AL, USA)
Don H. Madison (Missouri S&T, Rolla MO, USA)
Nicholas Martin (University of Kentucky, Lexington KY, USA)
Tommaso Mazza (European XFEL, Hamburg, Germany)
Laurent Nahon (SOLEIL Synchrotron, Gif-sur-Yvette, France)
Kyo Nakajima (JASRI, Hyogo, Japan)
Christophe Nicolas (SOLEIL Synchrotron, Gif-sur-Yvette, France)
Alicia Palacios (Universidad Autónoma de Madrid, Spain)
Béla Paripás (University of Miskolc, Hungary) 
Artem Rudenko (Kansas State University, Manhattan, KS, USA)
Kirsten Schnorr (MPI für Kernphysik, Heidelberg, Germany)
Michael Schulz (Missouri S&T, Rolla MO, USA)
Olga Smirnova (Max Born Institute, Berlin, Germany)
Emma Sokell (University College Dublin, Ireland)
Al Stauffer (York University, Toronto, Canada)
Andrey Surzhikov (Helmholtz-Institut Jena, Germany
Kiyoshi Ueda (Tohoku University, Sendai, Miyagi, Japan)
Oleg Vasyutinskii (Ioffe Physical Technical Institute, St.-Petersburg, Russia)
Masakazu Yamazaki (Tohoku University, Sendai, Miyagi, Japan)
Shaofeng Zhang (Institute of Modern Physics, Lanzhou, China)